WELCOME, and thank you for visiting my website. I hope you are in the midst of a peaceful moment.
I am a licensed psychologist providing psychological services via in Hillsborough and Bound Brook, NJ. Having suffered and recovered from many of the disorders I treat (eating disorders, anxiety, panic attacks, bereavement), I understand both personally and professionally what it takes to recover and feel better. I provide Counseling and Psychotherapy for adults, children, adolescents, couples, and families, and treat the following:
Anxiety
Panic Attacks
Depression
Eating Disorders (Anorexia, Bulimia, Binge-eating)
Compulsive Eating
Weight Loss Issues
Family Conflict & Disharmony
Child and Adolescent Behavioral Problems
Marital Problems
Relationship Issues
Grief & Bereavement
Self-Esteem Issues
LGBTQ+ issues
Bipolar Disorders
Addictions
Anger Management (including Court Mandated)
Stress Management
Attention Deficit Disorders (ADD, ADHD)
Tinnitus
Please note that I do not provide counseling or consultations via email or text.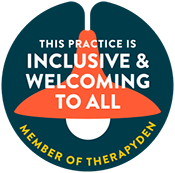 View my profile on RateMDs


The Family and Marriage Counseling Directory